Just posted this at our
recumbent
site:
Martin Krieg - HiWheelin' for Low Wheels
At the end of June, I finished a ride from San Francisco to Salt Lake City on the bike you see pictured here: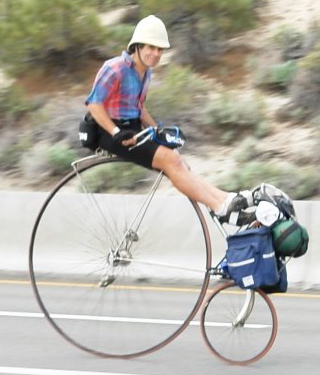 It ended up being a trial balloon for the ride I will be doing with the Busycle in tow to Boston next June because the two weeks of electric storms that I hit drained the budget and torpedoed the schedule. Here is the blog about that ride.
I am doing all this for the National Bicycle Greenway and to dispel the stereotype that RecumBent riders are not fit and/or cannot ride regular bikes any more. Having myself been 'bent since 1982, including my 1986 TransCon on a recumbent, it has been the recumbent seating configuration that has kept my body strong and able to pedal great distance on the 1891 Eagle HiWheel I am pounding away on.
In fact, I know of very few cyclists from three and four decades ago who can still roll the big miles on an upright much less even begin to think of riding a Penny Farthing for any measure of distance.
Martin Krieg "Awake Again" Author
2010 w/"How America Can Bike & Grow Rich"
'79 & '86 TransAmerica Bike Rides
Coma, Paralysis, Clinical Death Survivor
NBG Founding Director, HiWheel Cyclist